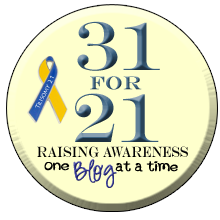 I'm taking the 31 for 21 Challenge here at Psalm68. This is a challenge to post every single day for the month of October to raise awareness for Down Syndrome. After all, October is Down Syndrome awareness month!
If you know someone with
DS
, give them a hug in honor of
DS
awareness month. If you don't know anyone with
DS
, I'm sorry.
Really, I am.